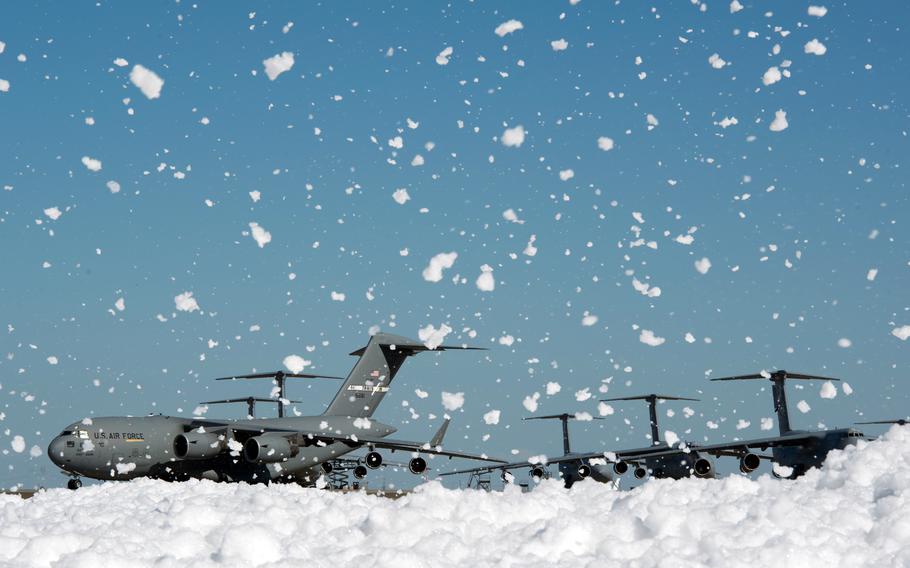 Air Force shuts down hangar fire suppression systems over PFAS concerns
By SETH ROBSON
STARS AND STRIPES • March 7, 2023
The Air Force has disconnected foam firefighting systems at more than 1,000 facilities over concerns about cancer-causing chemicals, according to the service's Installation and Mission Support Center.
Congress gave the Department of Defense an Oct. 1, 2024, deadline to stop using aqueous film forming foam, or AFFF, to fight fires when it passed the 2020 National Defense Authorization Act.
So far, the Air Force has shut down AFFF firefighting systems at 1,038 facilities out of 1,095 that were equipped with the foam, center spokesman Mark Kinkade said in an email to Stars and Stripes on Monday.
The foam contains PFAS, a class of chemicals linked to an increased risk of certain tumors of the liver, testicles, breasts and pancreas, according to the American Cancer Society.
The U.S. Environmental Protection Agency in June said no level of PFAS is safe in drinking water. The synthetic compounds accumulate in the body over time, according to the agency.
The Air Force is shutting down AFFF fire-suppression systems at all its hangars except four "mission critical" facilities where AFFF systems will remain in place, according to a Friday statement by Air Force Materiel Command.
Those hangars support the presidential aircraft fleet, including Boeing 747 airliners, call sign Air Force One, modified for presidential transport at Joint Base Andrews, Md., as well as Marine Corps helicopters, Kinkade said.
Removing the fire suppression systems reduces the risk of mission-related impacts on drinking water, Michael Six, Air Force Civil Engineer Center chief fire protection engineer, said in the Materiel Command statement.
"The health of our Airmen, families and community partners is a top priority," he said. "Eliminating AFFF from our hangar systems is one more way we are honoring our commitment to the total Air Force team." 
The affected hangars are being converted to water-only sprinkler systems, according to the statement.
The Air Force Innovation Lab at Tyndall Air Force Base, Fla., is researching alternatives for future fire suppression systems, the statement said.
The lab started testing alternatives in 2015, Bridgett Ashley, the lab's fire and emergency services research lead, said in the statement.
"In 2019, we started testing commercial-off-the-shelf alternatives and, to date, have tested 12 fluorine-free foams and are currently testing or have completed testing on three non-foam technologies for hangar applications," she said.
The Air Force is waiting for authorization to start using fluorine-free foam in firefighting vehicles with the change expected by late 2024, Air Force Civil Engineer Center division chief Kevin Matlock said in the statement.
Seth Robson is a Tokyo-based reporter who has been with Stars and Stripes since 2003. He has been stationed in Japan, South Korea and Germany, with frequent assignments to Iraq, Afghanistan, Haiti, Australia and the Philippines.