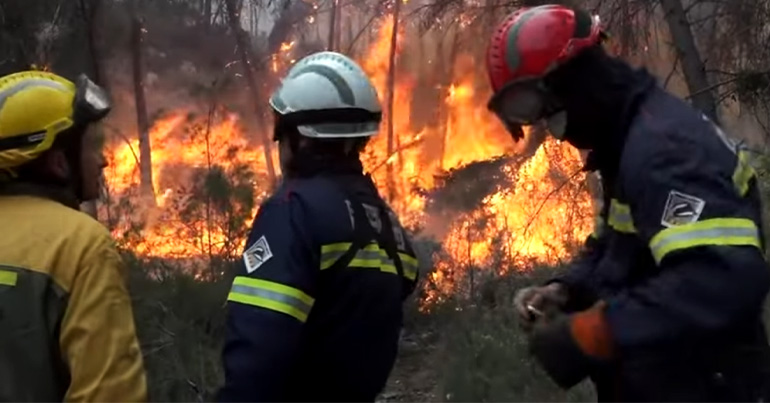 Wildfires in Spain are a sign of climate emergency, says the country's PM
Strong winds fanned the flames of Spain's first major wildfire of the year on 26 March. Despite milder temperatures, the winds complicated firefighting efforts. The blaze has so far ravaged more than 4,300 hectares – mostly of forest – since 23 March, forcing roughly 1,800 people from their homes, in a sign of the climate emergency.
The fire broke out near the village of Villanueva de Viver, in the east of the country. It has experienced an unseasonably warm spring, with the temperature nearing 30C on 24 March. While temperatures dropped to 19C on 27 March, strong winds of up to 44 miles an hour stirred the flames, officials said.
'Our main enemy was the weather'
Three villages with a combined population of around 80 people – Higueras, Pavias, and Torralba del Pinar – were the latest to be evacuated on Monday, emergency services said. They were backed by 23 water-dropping planes and helicopters before night fell.
Gabriela Bravo, the regional head of interior affairs in the Valencia region, told reporters: "We have to be prudent because the fire remains very active. Our main enemy was the weather. It did not help at all, the wind activated the fire"
During a visit to the affected area, prime minister Pedro Sanchez said the blaze proved "the climate emergency exists". He added that the area is "already experiencing wildfires that are typical of the summer months". Officials say Spain's wildfires season now runs from spring to autumn, rather than just during the summer.
Wildfire is caused by, and feeds back into, the climate crisis
In 2022, a particularly bad year for wildfires in Europe, Spain was the continent's worst-hit country. Nearly 500 blazes destroyed more than 300,000 hectares, according to the European Forest Fire Information System. Furthermore, as the Canary previously explained, the ecological impact of the 2022 fires went far beyond the immediate damage:
Huge fires that raged across Spain and France meant that these countries saw the highest carbon emissions from June to August since the satellite monitor's records began in 2003. [Copernicus Atmosphere Monitoring Service] stated that this "had a major impact on air quality in the region".
Climate change amplifies droughts that create ideal conditions for wildfires to spread out of control, and inflict unprecedented material and environmental damage. The US state of California experienced particularly vicious wildfires in 2020, which led to the burning of two million hectares of land. Australia experienced massive wildfires in the same year, which the World Wide Fund for Nature (WWF) described as "one of the worst wildlife disasters in modern history".
Featured image via The Independent/YouTube
Additional reporting by Agence France-Presse
Source: https://www.thecanary.co/global/world-news/2023/03/28/wildfires-in-spain-are-a-sign-of-climate-emergency-says-the-countrys-pm/