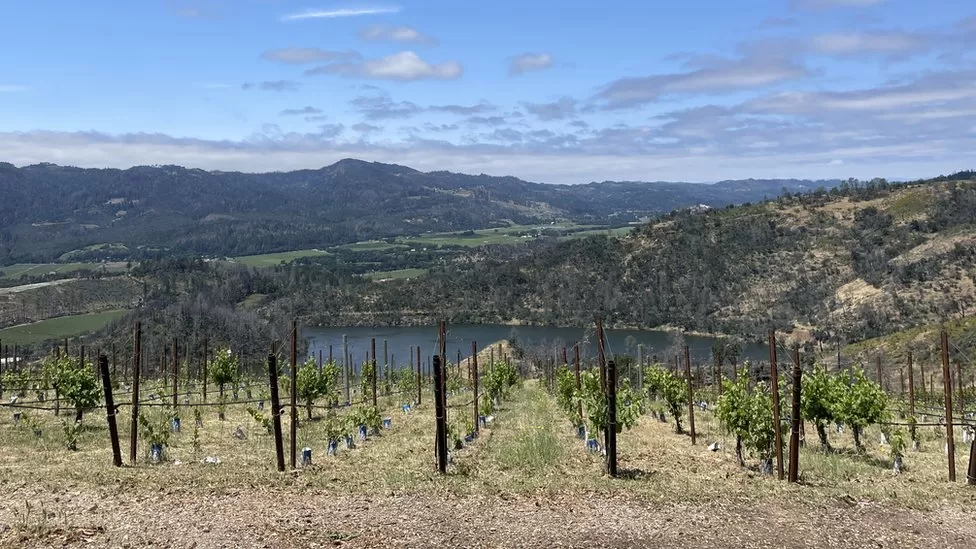 Californian winemakers are learning firefighting techniques
By Sophie Long and Samantha Granville (Business reporters, Napa Valley, California)
On a hillside overlooking the Napa Valley, birds chirp as they soar over uniform rows of lush green young vines. A blue lake sparkles in the sunshine below.
Many would call the view breathtaking, but Alan Viader, a second generation winemaker at Viader Vineyard and Winery says what he sees now, is an overgrown forest.
"Potential fuel," he calls it.
Northern California's Napa Valley had a historic wildfire season in 2020. The first blaze erupted in August, consuming hundreds of thousands of acres and killing five people.
Then in late September another – dubbed the "Glass Fire" – quickly became the most destructive wildfire in the famous wine region's history.
It engulfed Alan's winery, destroying some of the prized old vines, and incinerating two of the buildings on the property. After 24 hours of waiting, and praying, firefighters deemed the area safe, and Alan was finally able to return to his vineyard, where trees were still burning.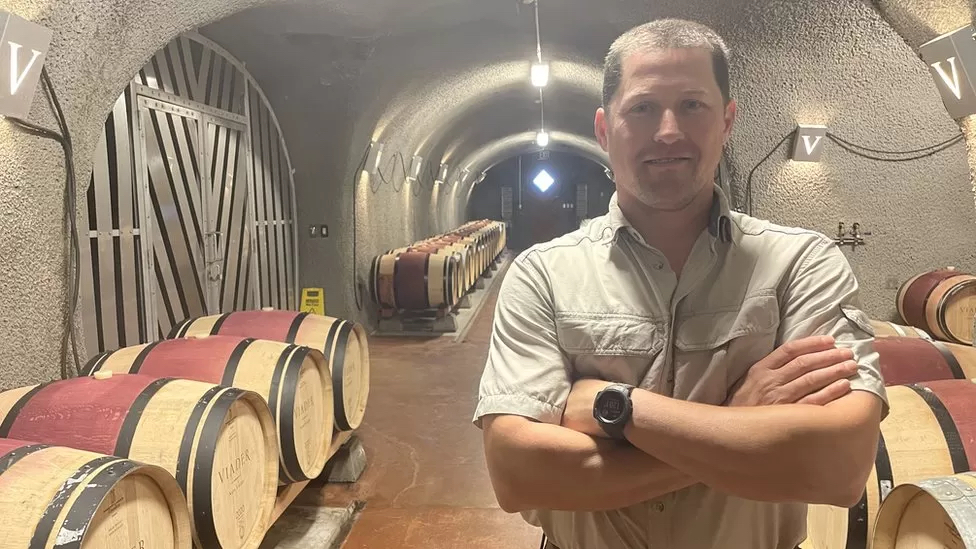 "I felt very helpless," Alan recalls. "I know what I can do. I know where we have our fire hoses and all our pumps. I know how to protect the property. But I just wasn't able to get up here and that was a struggle."
The perennial presence of wildfires is forcing him, like many others in the region, to confront a harsh reality – harvest season is now also fire season.
Nearly three years after the Glass Fire, Alan hasn't just adapted the property, rebuilding with fire resistant materials, paving wider roads for fire engines and mobile water tanks, he's also undergone training and is now a certified firefighter.
"There's a huge connection, a real parallel with firefighting. We play with pumps and hoses, too, except our hoses are full of wine," he says. "I'm always dragging hoses somewhere".
Just across the valley sits Storybook Mountain Vineyard, where 86-year-old Jerry Seps still gets up at 05:00, puts on his straw hat, and tends to his vineyard, just like he has everyday for nearly 50 years.
In 2017, when flames started to threaten Jerry's land and livelihood, he decided to not evacuate, and instead to try to fight the flames himself. He was told he single-handedly saved the winery.
He blushes at the memory and sighs.
"You're not saving a vineyard, you're saving your life," he says. "This is our life choice. And I've put a lot into it. The family's put a lot into it. And it was too much to lose without a struggle."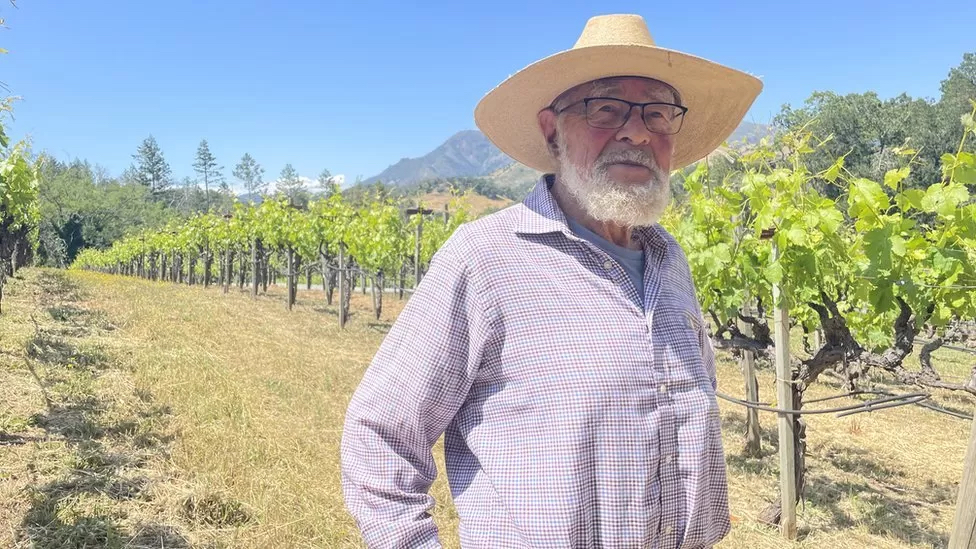 Fast forward three years, and there were more ferocious fires to fight, but it wasn't the flames that posed the greatest threat. Instead it was the smoke.
The wine that's finally bottled after fermentation is a living entity that ages and develops. And what winemakers in the region quickly realized is that even if the vines are saved from the flames, the pernicious effects of the smoke can be even more costly than the fires themselves.
Jerry attempted to make wine after the 2020 harvest, hoping that his crop had been spared. But once testing began, he discovered that smoke taint had affected two-thirds of his grapes, and therefore the resulting wine.
"So we just poured it down the drain," he says. "We took the economic loss in a feeling that we have a very strong reputation. And we really care about the people that drink our wine and we want to keep that reputation."
California's wine industry is worth around $40bn (£32bn) to California's economy. Winemakers across the Napa are desperately seeking solutions to smoke taint.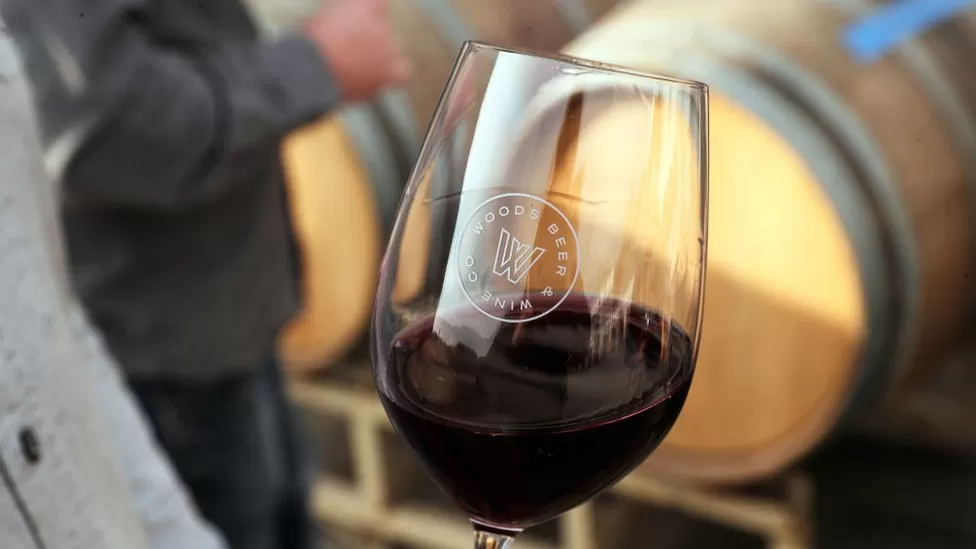 Prof Anita Oberholster, at the University of California at Davis, is leading research into how the impact of smoke taint can be mitigated. She's become a wine "doctor", helping to cure sick wine.
Prof Oberholster says there are some filtration techniques, like reverse osmosis, and treatments involving activated charcoal which are already used to remove bitter compounds from wine. But these treatments can remove more than just the ashy taste created by compounds from the smoke, they also takeaway some of the wine's complexity.
"Unfortunately, both of these also impact the overall quality of the wine. So you probably will need to sell that wine at a lower price level, because the quality will be impacted.
And that's the problem, you can still make wine after wildfires, but in a region that exists on a world renowned reputation built up over many decades, can they make Napa quality wine?
At Realm Cellars, head winemaker Benoit Touquette takes a sip of his prized cabernet sauvignon and loudly slurps it with pleasure. He calls the noise "the sound of joy."
He and his team decided not to make any red wine with the 2020 harvest because of the smoke taint. It was a decision that cost the winery more than $25m.
"It's not just make or don't make," he says. "You've got to think about everything at once.
"What if it goes bad in the consumer's hand? What does it mean for the brand? There's the instance where there is no income, but there's also the longevity of the brand and our values. There's much more at stake than the income which is a tremendous number."
Just up Silverado Trail, the main road that winds through Napa Valley, sits the Signorello Estate It was the only Napa winery to burn to the ground in 2017. Almost six years on, the rebuilding process continues.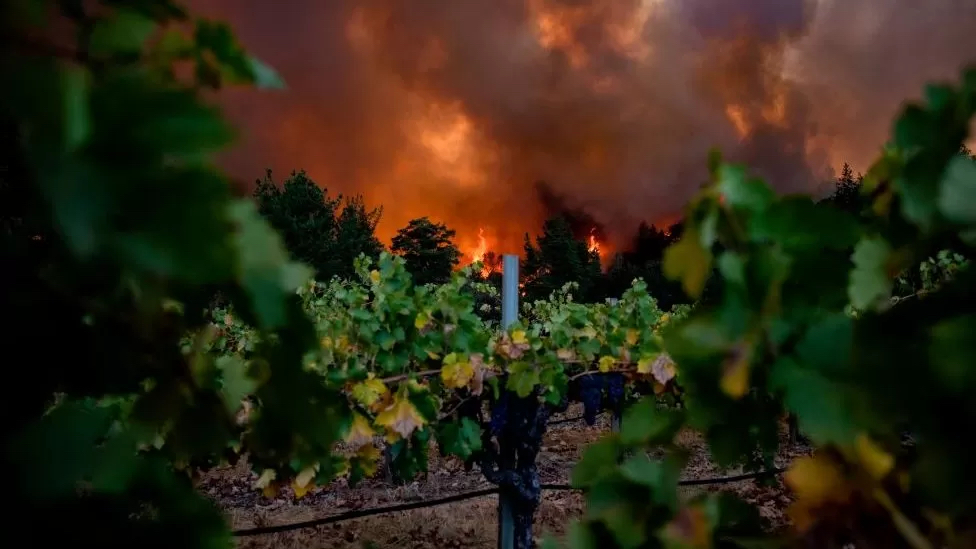 Priyanka French, the head winemaker at the winery, is helping oversee the construction of what will be one of the most fireproof wineries ever built, she says they are only using non-flammable materials and will produce most of the wine in underground caves, as a natural form of fire protection.
Despite the increased threat of fires and the black smoke they billow, she feels positive about the future.
"As long as we're being conscientious, not just of being responsible as environmental stewards, but really thinking about what the industry in Napa is going to be able to say about itself in the future, I think it's exciting.
"I think we're having some really interesting and important conversations about important issues at the moment. The glass is half full for me."
SOURCE: https://www.bbc.com/news/business-66096061