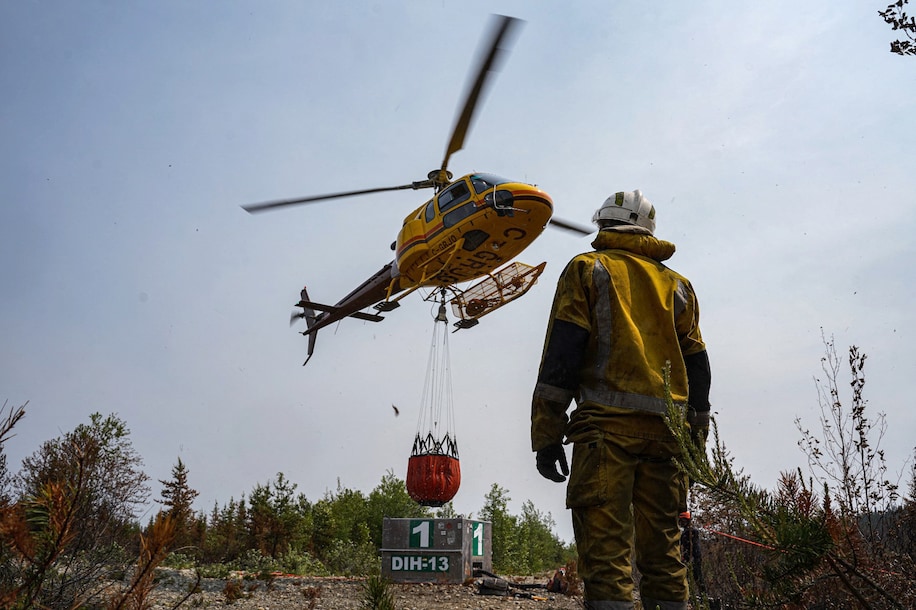 With record wildfires, why won't Canada create a firefighting force?
The Kimiwan Complex wildfire was an out-of-control monster in May when Dustan Mueller arrived in northwestern Alberta to command the response to the blaze.
In two weeks, the fire had more than quadrupled in size, whipping through 270,000 acres of boreal forest, threatening oil rigs and driving people of the Peavine Metis Settlement from their homes.
Mueller, a U.S. Forest Service deputy fire chief at Lassen National Forest in California, had 20 fire seasons of experience, but this was his first deployment abroad. One aspect of his time in Canada stood out.
"I'm used to, in California, having upward of 5,000 to 6,000 people underneath us working on a fire the size of the Kimiwan Complex," he said. "In Canada, we might have had 250 people at the most. That's a vast difference."
That disparity is, in part, a reflection of how Canada's worst wildfire season on record — an Indiana-sized expanse of 23 million acres has been charred and a record 155,000 people have been driven from their homes, and there are still months to go — has challenged the provincial firefighting resources on which the country relies.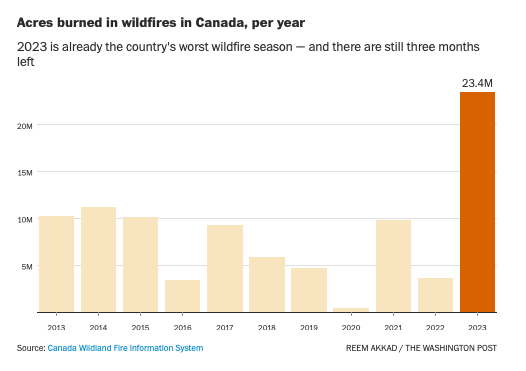 As punishing drought and unrelenting heat fuel blazes raging from coast to coast at once — an unusual occurrence — some 3,200 international firefighters, Mueller included, have joined 3,800 Canadians in the battle.
But with climate change expected to fuel longer and more intense wildfires seasons not only in Canada but also in the countries on which it relies for backup, some here are calling for the creation of a national wildland firefighting service.
"That is one thing to consider," said Mike Flannigan, a professor of predictive services, emergency management and fire science at Thompson Rivers University in British Columbia. "What we're seeing is that the status quo is being stretched to the limit, and perhaps we have to look at alternate ways of doing business."
How large are the Canadian wildfires, and who is suffering the smoke?
In the United States, the U.S. Forest Service is responsible for the management of federally owned forestlands and grasslands. In Canada, 94 percent of forestland is public, but its management is left largely to the provinces and territories — and they generally want to retain that control.
That means different approaches across the country on everything from wildfire mitigation to whether wildfire suppression and prevention budgets are being boosted or slashed, and even how much of an old-growth forest may be logged.
When resources are challenged, the Winnipeg, Manitoba-based Canadian Interagency Forest Fire Center coordinates the sharing of wildland firefighting personnel and resources among the 10 provinces and three territories, and solicits international assistance.
It's common for firefighting personnel and equipment to be shared within Canada even in relatively mild fire seasons. But this year, whenmuch of the country is on fire at once, the capacity for sharing is limited.
"I don't want to refer to this as a competition," Bill Blair, Canada's emergency preparedness minister, said last month. "But we have many fires in many parts of the country drawing upon a limited number of resources, both within Canada and internationally."
The federal government is funding a pilot program to train more firefighters, and it has approved requests from the provinces for military assistance. But military leaders have warned that relying on the troops to respond to wildfires is harming the readiness of the Canadian armed forces.
Officials in several provinces, including hard-hit Quebec, told The Washington Post that they plan to recruit more wildland firefighters, including volunteers. Prince Edward Island is offering training to government employees who might also be members of volunteer fire departments.
In Parliament last month, member Richard Cannings said it was time to "reevaluate the federal role" in wildfire response. The New Democratic Party lawmaker suggested the government "train and maintain crews of firefighters who will help us attack fires rapidly before they explode out of control."
Opposition leader Pierre Poilievre told reporters he "would be open to studying any solutions that would help the country coordinate its water bombers and other assets so they're where they're needed when they're needed as quickly as possible."
The federal government has not directly responded to questions about a federal firefighting force. Proponents say it would allow the country to be more agile in its response. But establishing such a force could complicate ties between Ottawa and the provinces, opening up a new front in the often fierce fight between the two levels of government over natural resources — in this case, forests.
"How those [wildland firefighting] resources get shared between the federal government and the provinces, I think, could end up being pretty difficult to manage," said Mathieu Bourbonnais, a professor of earth, environmental and geographic sciences at the University of British Columbia.
"I think it would be a little more challenging, actually, in Canada than it's been in the United States," added Bourbonnais, a former wildland firefighter, "just because we don't have the same federal lands."
Most of the provinces and territories contacted by The Post did not respond directly to questions about a national force or said the system works well as it is. The Northwest Territories said it was interested in learning more. Quebec and Saskatchewan said forest management is under their jurisdiction.
Why Canada's wildfires are extreme and getting worse, in 4 charts
There have been few years over the past four decades when Canada didn't provide or receive foreign firefighting assistance. But like much else in the 2023 fire season, the aid, comprising personnel from 11 countries on six continents — all but Antarctica — has been unprecedented. Canada has mutual aid agreements with many of them, but not all.
"This year is very unique because we've had to go beyond that framework and reach out to new partners," said Marieke deRoos, a spokeswoman for the Canadian Interagency Forest Fire Center.
Several international firefighters said the fires they faced in Canada were unlike anything they had seen before.
Aitor Soler, a Spanish firefighter deployed to Quebec, said the blazes were relatively quiet in the morning but by noon turned "very explosive and also dangerous" in a way to which he was unaccustomed.
Angela Iglesias, an official with Spain's Ministry of Ecological Transition, said the size of Quebec's forests meant the fires were several times larger than those in Spain.
"Even if you think [the fire] is extinguished, it's still burning, burning, burning under the ground," she said. "That's a fire behavior we're not used to. It's very impressive."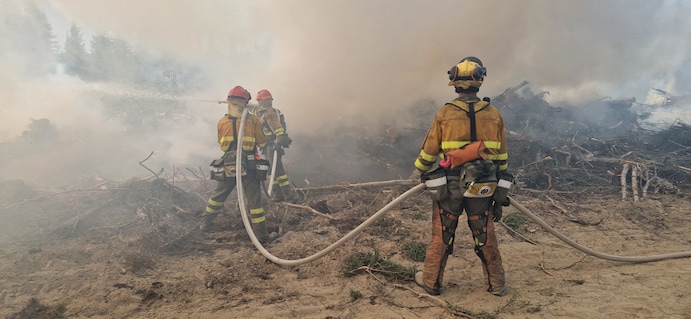 Firefighters spoke highly of the deployments, pointing to them as an expression of the international solidarity that fighting climate change demands and an opportunity to exchange and gain knowledge.
But firefighters from several countries said a major reason they could come to Canada in such large numbers this year is that their home countries were experiencing a slower-than-normal start to their fire seasons. Eventually, they said, they would probably have to go back.
"That has been the key," Iglesias said in late June, days before the Spanish contingent returned home. "That is why we have been able to come here, but it's also true that we cannot stay longer."
Canada "got lucky" that the fire season in the Western United States this year had a late start, said Ben Elkind, a U.S. Forest Service smokejumper.
"It's been a slower season," Mueller said, "but it's just starting to turn on."
The question is what happens if, as scientists predict, climate change causes many countries — some of them dealing with challenges of their own in recruiting and retaining firefighters — to face longer and more extreme fire seasons simultaneously.
"There's such a latent demand," said Elkind, a member of the advocacy group Grassroots Wildland Firefighters. "Everyone wants more screws, and the reality is we don't have [them]."
Catherine Koele, an official with the Great Lakes Wildfire Compact, a group of U.S. states and Canadian provinces that share resources, said U.S. officials asked their Canadian counterparts this year for aircraft as a precaution, but the record fires in Canada meant they couldn't be spared.
Prime Minister Justin Trudeau has said Canada has enough resources for the rest of the fire season. He has said the system of international assistance is sustainable because several of the countries on which Canada relies are in the Southern Hemisphere and have different wildfire seasons.
Others see signs of stress.
The response to severe wildfires in British Columbia in 2021 was tested by a large number of blazes in other parts of Canada and the United States, the Canadian Interagency Forest Fire Center reported, leaving "multiple agencies competing for firefighting resources and equipment."
"There is a real challenge for this, let's be honest," said Claire Kowalewski, the European Union's emergency response coordination liaison officer in Canada. "The principle of having an international organization is a bit difficult, because now forest fire season is not just a few months. …"
"It's all year long, and it's everywhere."
Brianna Sacks in Los Angeles and Ian Livingston in Washington contributed to this report.
SOURCE: https://www.washingtonpost.com/world/2023/07/11/canada-wildfires-international-firefighters/