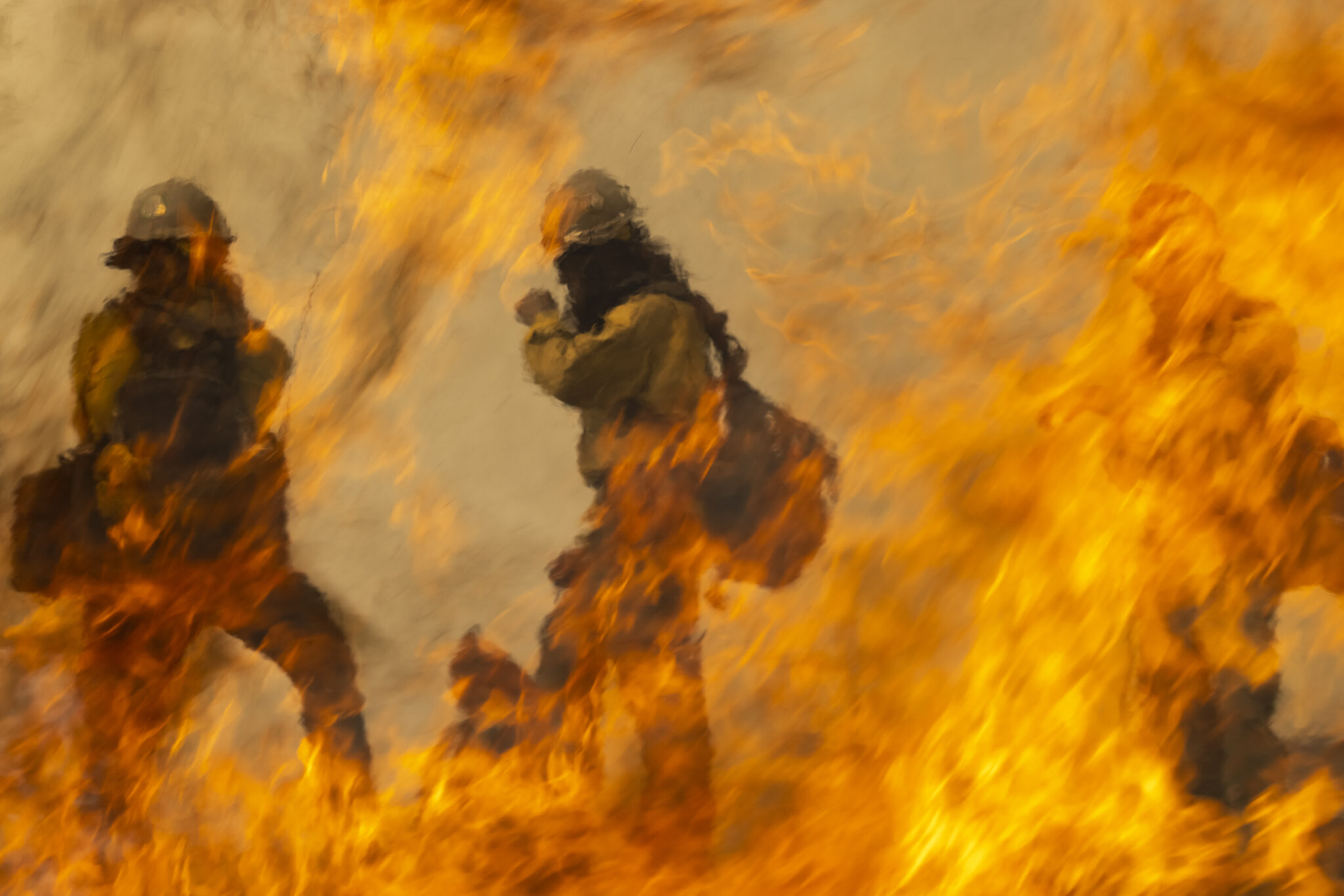 CA fire moves into Southern Nevada
BY: JENIFFER SOLIS 
Wildfire season crept into Southern Nevada over the weekend, bringing destructive fire and a thick film of smoke into Clark County.
Federal fire officials are tracking and investigating a fire they say started on private land within the Mojave National Preserve in California on Friday, before moving into Nevada on Sunday.
According to a United States Forest Service wildfire tracker, the fire — dubbed the York Fire — has burned through about 77,000 acres and is headed northeast at a moderate rate as it travels from San Bernardino, California into Clark County.
Firefighters say precipitation overnight slowed the fire's intensity and spread, which officials hope may help containment efforts and reduce the risk to lives and property.
Clark County officials said they have no plans to evacuate the residential areas of Nipton and Searchlight currently, since the fire has slowed its progression, but fire crews remain ready should winds shift or the speed of the fire increase.
"Clark County Fire Department is stationing a mobile command near the state line, is providing resources to combat the fire, and is preparing to go on the offensive to protect residential areas, including Nipton and Searchlight, if needed," CCFD officials said Sunday.
Poor visibility due to thick smoke has hindered firefighting operations and affected aerial support, ground crews' movement, and communications between firefighting units, said the National Park Service.
With smoke from the fire limiting visibility to a mile or less in some areas, firefighters and travelers are dealing with hazardous road conditions. Saturday morning, the fire temporarily shut down traffic across the Nevada-California state line due to limited visibility from the thick smoke. The traffic was later reopened to two travel lanes, which also caused major delays.
The National Park Service has closed several roads due to hazardous wildfire conditions and fire suppression operations.
Clark County firefighters have joined fire crews for San Bernardino Fire Protection District, the National Park Service, and the Bureau of Land Management in the coordinated effort to combat the park fire.
Wildfire officials say an abundance of dry fuels, combined with high winds on Sunday, created extremely challenging conditions for firefighting efforts. In some areas, fire crews reported seeing 20-foot flames, resulting in a long-distance fire run.
Smoke from the fire also reached into the Las Vegas metro area. Monitoring stations in Boulder City, Henderson, and East Las Vegas show distant thunderstorms have carried hazardous smoke and dust, including PM2.5, a fine particle common in wildfires that can worsen respiratory illnesses by impairing the immune response. Other portions of the valley are also likely to be impacted.
"Particulate matter pollution will fluctuate over the course of a day and can reach elevated levels from one hour to the next, which also may lead to limited visibility at times," county officials said.
Clark County officials said time of day and wind direction could intensify harmful particulate matter in the air, but added that "the overall air quality picture isn't as dire as it appears."
SOURCE: https://www.nevadacurrent.com/blog/ca-fire-moves-into-nevada/