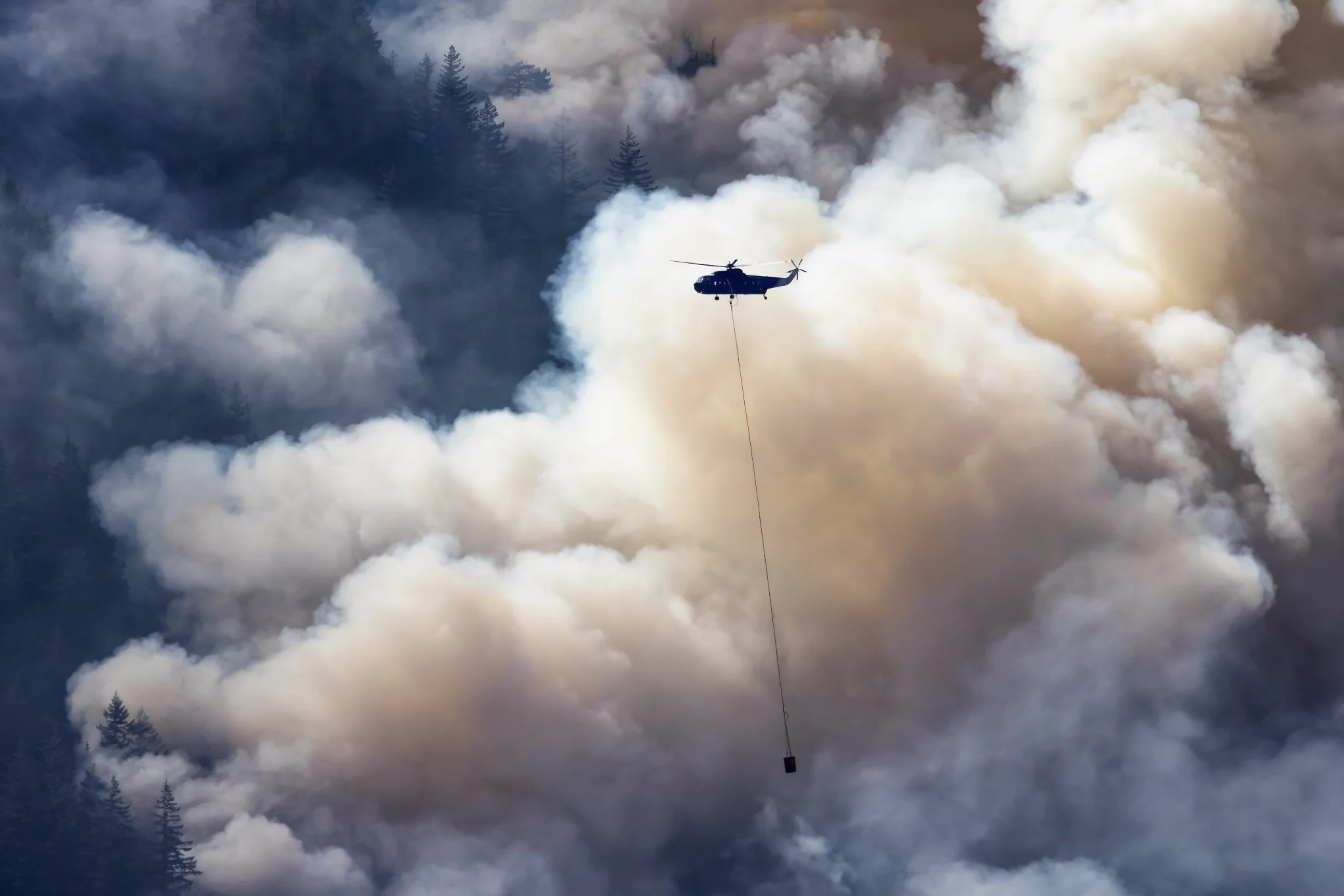 In the fight to prevent extreme wildfires, nature can help
By Sushant – & Talha Awan | Opinion 
Canada is in the midst of its most devastating wildfire season ever. With exponentially high costs to health, economy and nature, there is an urgent need to invest in wildfire prevention strategies in Canada. Nature-based solutions such as controlled burns and fire-smart forestry can help. These solutions remove fuel and build fire resistance, and applied in partnership with Indigenous communities, offer benefits such as new jobs, long-term cost savings and biodiversity conservation.
This year, Canada is experiencing its worst-ever wildfire season. By Aug. 30, more than 15.6 million hectares were already ravaged and more than 155,000 Canadians had been evacuated.
Lightning strikes and human activities such as discarded cigarettes and sparks from trains are the main causes of wildfires. Climate change-induced heat and drought have worsened the situation, fuelling fast-spreading forest fires. With rising global temperatures, more frequent and extreme wildfire events are projected, underscoring the urgent need for Canada to invest in preventive strategies.
Lack of prevention comes at a high cost
Prevention efforts are expensive but only a fraction of the cost of damage to human health, the economy and nature. Wildfire smoke is 10 times more toxic than other forms of pollution. As it causes air pollution levels to rise, health-care costs soar. Air pollution is linked to physical health issues such as respiratory illness and cardiovascular disease and mental health problems such as depression and anxiety. Ontario's wildfire smoke-related health-care costs over a five-day span (June 4 to 8) were estimated at an astonishing $1.28 billion.
And that's just the beginning. With wildfire season still going on, the economic impact on communities directly in the path of fires is yet to be fully assessed. The 2016 Fort McMurray wildfire — the costliest natural disaster in Canada's history — forced the evacuation of more than 90,000 people, cost $3.7 billion in insured damages and an additional $8.9 billion in social, economic, and environmental costs. The ongoing wildfire season is likely to increase insurance premiums for everyone. Wildfires also damage ecosystems, disrupt businesses, inflate indoor air filtration expenses, cause tourism revenue losses and increase greenhouse gas emissions.
Increasing investment in wildfire prevention strategies is crucial to minimize these damages.
Nature-based solutions can help
Wildfires are part of the life cycle of forests and provide benefits to affected ecosystems. However, increasingly large and frequent wildfires, plus insufficientgovernment funding for prevention, necessitate a renewed focus on prevention strategies.
The implementation of nature-based solutions would require collaboration between all levels of government and Indigenous communities. Indigenous leadership is crucial to successful wildfire prevention. Indigenous communities have invaluable knowledge of practices for wildfire mitigation, forest regeneration and biodiversity conservation. Currently, 17.8 per cent of Canada's on-reserve First Nations populations reside in high-risk wildfire areas. Indigenous Guardians can play a vital role in detecting, suppressing and managing wildfires.
Cost-effective, nature-based prevention strategies and Indigenous community involvement can help address Canada's escalating wildfire risk while creating jobs and improving ecological health.
Removing fuel for the fire
Reducing fuel sources by clearing flammable material from the forest floor can mitigate wildfires. In the Yukon, manual fuel removal builds protective gaps between forests and settlements. Establishing raw material supply links with bioenergy companies can even make manual fuel removal cheaper.
Biomass markets can incentivize fire mitigation by purchasing low-grade wood from fuel-removal operations and creating jobs. In British Columbia, a forestry project involving Indigenous communities reduced wildfire risk and created employment opportunities by clearing debris from forest fires and making biomass available for energy generation.
Fighting fire with fire
Prescribed fires can reduce wildfire risk by eliminating fuel buildup and creating protective breaks. These planned controlled burns prevent larger, more destructive fires. While costly, prescribed burns mitigate economic losses by lowering firefighting costs and decreasing greenhouse gas emissions.
They also enhance ecological health. Lessons can be learned from a partnershipbetween Indigenous communities and the B.C. government to conduct prescribed burns to prevent wildfires and promote the growth of native grasses.
Building fire resistance through forestry and agriculture
Fire-smart forestry and agriculture offer relatively cheaper solutions to address wildfires. Green firebreaks, the strategic planting of low-flammability tree species, can curb fire spread and support biodiversity.
Converting forestry plantations to fire-resistant native woodlands is another promising approach. An innovative practice that could be replicated is targeted grazing, which creates "agricultural firebreaks" that reduce fire threats with minimal impact on ecosystems. These approaches also generate other benefits, such as timber provision, recreation opportunities, habitat restoration and carbon sequestration.
Urgent need to scale up investments
Preventing large and damaging wildfires requires a multifaceted approach. Employing a combination of the strategies discussed above in partnership with Indigenous communities can help safeguard vulnerable populations and avoid the destructive consequences of extreme wildfires. These approaches will protect public health, promote ecological well-being and stimulate economic development through cost savings and job creation. Swift and widespread action is essential to prevent the devastating impact of future record-breaking wildfires intensified by climate change.
Sushant is a research associate at the Smart Prosperity Institute. He is a "green" researcher with a passion to craft science-based solutions for nature conservation. While working with environmental non-profits, he undertook applied research studies at the intersection of environment, sustainability and policy. He has led projects on forestry, nature conservation, agroforestry and climate financing. He has published research papers in peer-reviewed journals, written policy briefs for the federal government, and developed discussion papers to identify policy-practice gaps. Sushant completed his masters and fellowship (doctorate) from the Indian Institute of Forest Management.
Talha Awan is an interdisciplinary researcher whose interests lie at the intersection of nature, human health and social equity. He holds a master's in urban planning from McGill University where he conducted a research project on using urban nature-based solutions to promote health and address environmental inequity in the City of Montréal. Before joining SPI, Talha worked as an intern at Nova Scotia Environment's Climate Change Unit and as part of Œuvre Durable's policy brief team, advancing climate change adaptation in informal settings in Latin America and the Caribbean.
SOURCE: https://www.nationalobserver.com/2023/09/06/opinion/fight-prevent-extreme-wildfires-nature-can-help