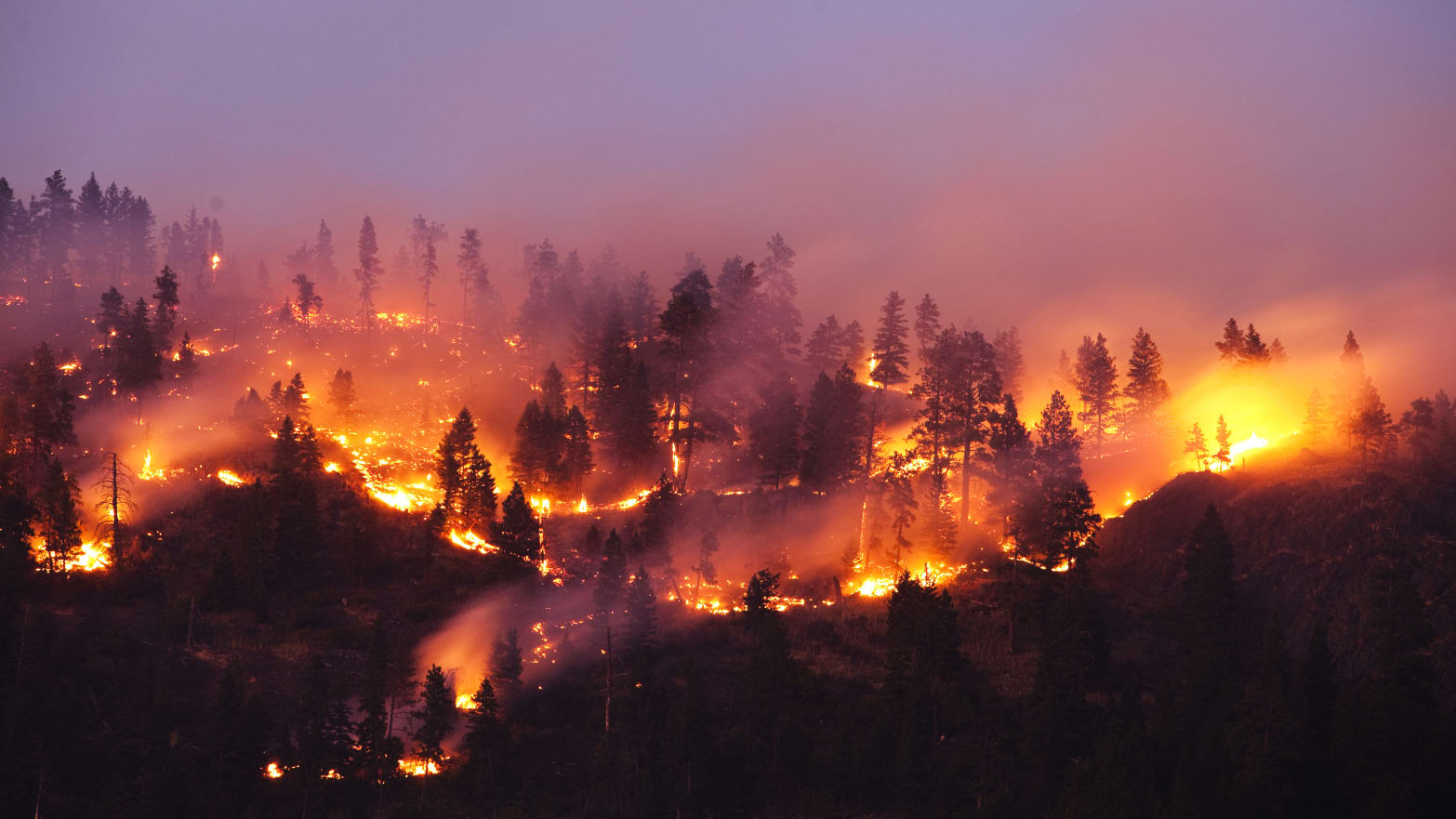 How Air Pollution and Wildfires Increase Rates of Suicide
It's disproportionately impacting rural communities.
By: Tony Ho Tran / Daily Beast
If you or a loved one are struggling with suicidal thoughts, please reach out to the National Suicide Prevention Lifeline by dialing or texting 988.
In the past year, the U.S. has seen horrific air pollution from wildfires spread everywhere from the major metropolitan areas of the Northeast to the plains of the Midwest. The impact is stark. Not only can poor air quality lead to increases in lung cancer cases and dementia, but it could also be the reason why your favorite sports team is performing poorly.
Now there's even evidence that it could have a deadly impact on mental health.
A team of researchers at the University of Illinois at Urbana-Champaign published a study Monday in the journal Proceedings of the National Academy of Sciencesthat found air pollution may also cause spikes in suicide. This phenomenon disproportionately affects rural counties, where a 10 percent increase in pollution is linked to a 1.5 percent rise in suicide rates on average.
"Air pollution has long been recognized as bad for physical health, but there's now evidence that links it to mental health problems such as anxiety, depression and suicide," co-author David Molitor, a professor of finance at Illinois, said in a statement.
The authors used satellite data of wildfire smoke and concentrations of fine particulate matter in the U.S. from 2007 to 2019. They then compared the yearly county-level data of smoke exposure to suicide rates and discovered that the areas with worse air quality had higher instances of suicide than those with better air.
The authors also found that rural white males and rural adults with no college education tended to commit suicide at a higher rate than other populations. In urban areas, Molitor explained that "we don't detect any relationship between air quality and suicide." One reason could be that those in rural areas are more likely to work outside and be exposed to bad air compared to those in the city.
"Suicide rates were about 36 percent higher in rural versus urban counties during our sample period," he said. "All of the effects seem to be concentrated in rural populations."
The study underscores what's becoming increasingly clear as we grapple with the effects of wildfires and air pollution as a whole: Bad air is killing us. Air pollutants have been shown to damage brain cells, leading to cognitive issues like loss of memory. They have also been shown to cause spikes in stress hormones, which can greatly impact mood. With wildfires becoming more and more widespread, this situation is only going to get more dire before it improves.
"Given that wildfires are expected to become more frequent and severe in the coming decades because of warmer and drier climate conditions and ongoing human development in previously wild areas, it's imperative that we fully understand the impact of wildfire smoke pollution," Molitor explained.
The best solution is, of course, to do everything we can to reduce greenhouse gas emissions that make the planet warmer and wildfires more frequent. Proper forest management by local governments and private entities also plays a key role in reducing instances in which these out-of-control blazes occur.
Unfortunately, we wouldn't hold our breath for those changes to happen anytime soon.
SOURCE: https://www.thedailybeast.com/how-air-pollution-and-wildfires-are-making-us-more-suicidal