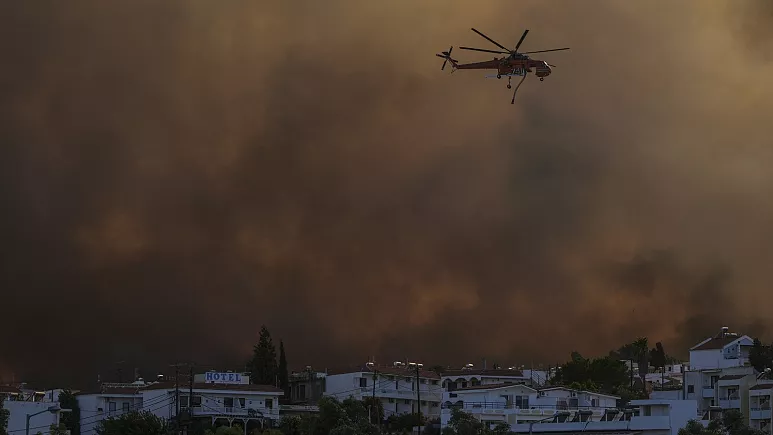 EU sends more firefighting planes to Greece as wildfires rage
The EU is today sending a further five firefighting planes and one helicopter to Greece as devastating wildfires burn in the north east of the country.
The aircraft, which make up almost a third of the rescEU aerial fleet, will come from Croatia, the Czech Republic, Germany and Sweden.
"We are also using our Copernicus satellite system to provide satellite images to the Greek authorities so they can delineate the area affected by the fire," said a European Commission spokesperson Tuesday.
"The involvement is pretty significant and of course, we remain at the disposal of the Greek authorities if the need arises for additional assistance," he added.
Greece activated the EU Civil Mechanism in response to the wildfires two days ago and already received planes, firefighters and vehicles from Cyprus and Romania yesterday.
The EU Civil Mechanism allows countries to request assistance from other nations when their emergency services are overwhelmed by unexpected events including fires, and has become an increasingly valuable resource in recent years as wildfire incidence in southern Europe has risen.
The European Commission announced in July it would purchase a further 12 highly-sought 'Canadair' planes to boost its aerial firefighting capacity. These will be wholly financed by the EU but stationed in and legally owned by Croatia, France, Greece, Italy, Portugal and Spain, southern countries more vulnerable to wildfires.
The announcement of further EU support came as Greek authorities found the bodies of 18 people believed to be migrants burned in the Dadia forest in Evros in north-eastern Greece. The forest is along a route popular among migrants crossing into the European Union from Turkey.
Greece already grappled with its worst month of wildfires since 2008 in July, when around 50 000 hectares, equivalent to around 95 000 football pitches, burned in just 12 days.
Source: https://www.euronews.com/my-europe/2023/08/22/eu-sends-more-firefighting-aircrafts-to-greece-as-wildfires-rage