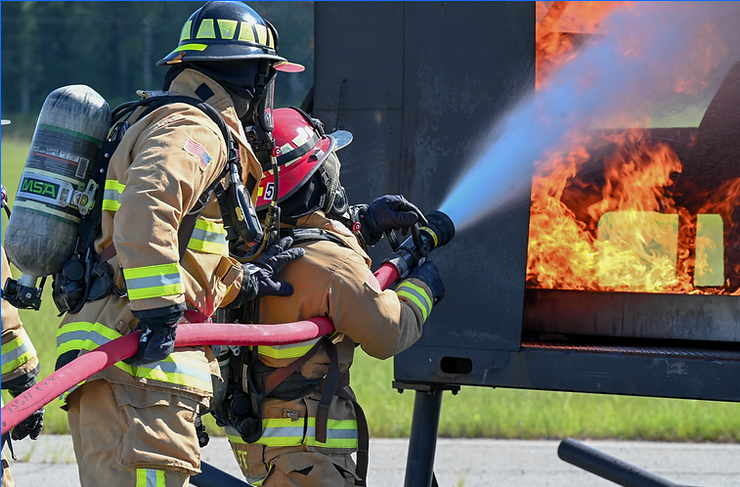 Maxwell | Inside the 908th: Fire Protection
Published Oct. 5, 2022
By Airman 1st Class Juliana Todd
908th Airlift Wing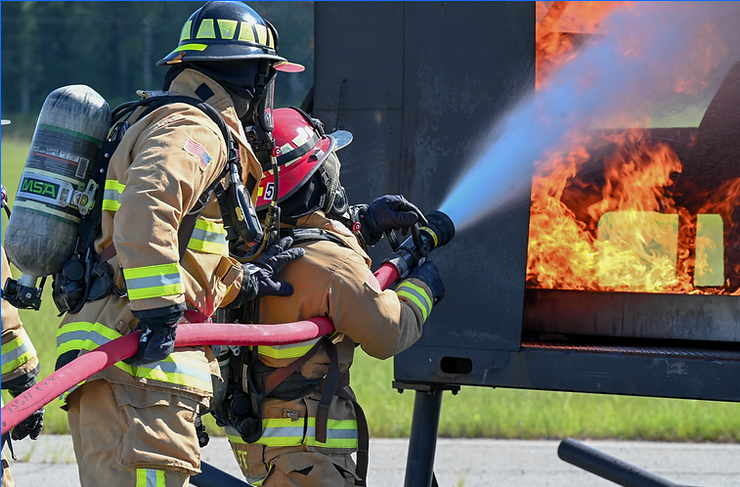 MAXWELL AIR FORCE BASE, Ala. —
To some, it may seem heedless to crawl into flames and rescue someone you never met. It may seem intimidating to hoist tools through a window you just climbed into using a single ladder with flames and smoke all around.
Being responsible for lives and mitigating tasks in a chaotic environment can put the average person in distress. However, the 908th Airlift Wing doesn't seek out average.
If you possess a stellar attitude paired with a desire to serve and protect, then you should consider becoming a Fire Protection Specialist (Air Force Specialty Code 3E7X1), with the 908th Civil Engineer Squadron.
To become a Fire Protection specialist or firefighter for the United States Air Force, you must initially meet the basic entry qualifications, and complete 7.5 weeks of basic training and 68 days of technical training at Goodfellow Air Force Base, Texas.
"For someone interested in this career field, I would tell them to come in mentally prepared," said Senior Airman Coryan Carter, a firefighter with the 908 CES. "About 80% of firefighting is knowingly going into dangerous situations and not letting the stress of it overwhelm you."
Generally, a firefighter's priority is to protect people, property, and the environment from fires and disasters. They could deal with anything from brush fires to hazardous material fires to providing emergency first aid to victims. They also complete a substantial amount of training, studying, and administrative work such as writing incident reports, staying up to date with policy and protocol changes, reviewing fire prevention plans, or taking advancement courses for promotions.
Firefighters are expected to know a wealth of information relating to the field and their respective fire departments. They need to know their department's mission, safety requirements, and objectives, as well as the internal rank structure and incident command system. Additionally, they are to know the proper use of equipment, fire hose appliances, safe ladder procedures, forcible entry and ventilation tactics, and the proper wear of personal protective equipment.
Firefighters are also trained in cardiopulmonary resuscitation rescue, basic emergency medical technician knowledge, and other means of rescue. Some examples where this training may be needed are in traffic incidents, gas leaks, elevator malfunctions, or aircraft fires. While a firefighter's priority is to protect people, property and the environment, it would not be possible if firefighters did not prepare beforehand.
On a typical day when firefighters are not responding to a call, they could be inspecting and maintaining their equipment, vehicles, and PPE, ensuring they will be capable of executing the mission when the time comes. Routine checkups help firefighters keep track of inventory and what needs to be repaired or cleaned around the fire station.
"One of the biggest responsibilities as a firefighter is checking out the truck," said Carter. "It's vital to our job that we have enough water supply, enough gas, and equipment that operates the way it's supposed to, to prevent unnecessary dangers on the scene. It's a small thing many people may not think about, but it's crucial."
Firefighters also engage with the local community, providing safety briefs and demonstrations, or promoting fire awareness, safety and prevention.
For entry into this specialty, completion of high school with courses in chemistry, general science, and mathematics is desirable. Some helpful attributes to possess are discipline, stamina, and a sense of motivation to carry out each operation.
"I believe that joining the military as a firefighter gives an invaluable resource for starting a career because of the knowledge, certifications, and training you receive," said Senior Master Sgt. Aaron Bebernitz, fire chief of the 908 CES. "When we all put this uniform on, we serve the same country, fight the same enemy, and are all united as one."
If you are interested in a part-time career with full-time benefits as a Reserve Citizen Airman with the 908th Airlift Wing, please contact our Recruiting staff at 334-953-6737.
SOURCE: https://www.aetc.af.mil/News/Article-Display/Article/3180839/maxwell-inside-the-908th-fire-protection/