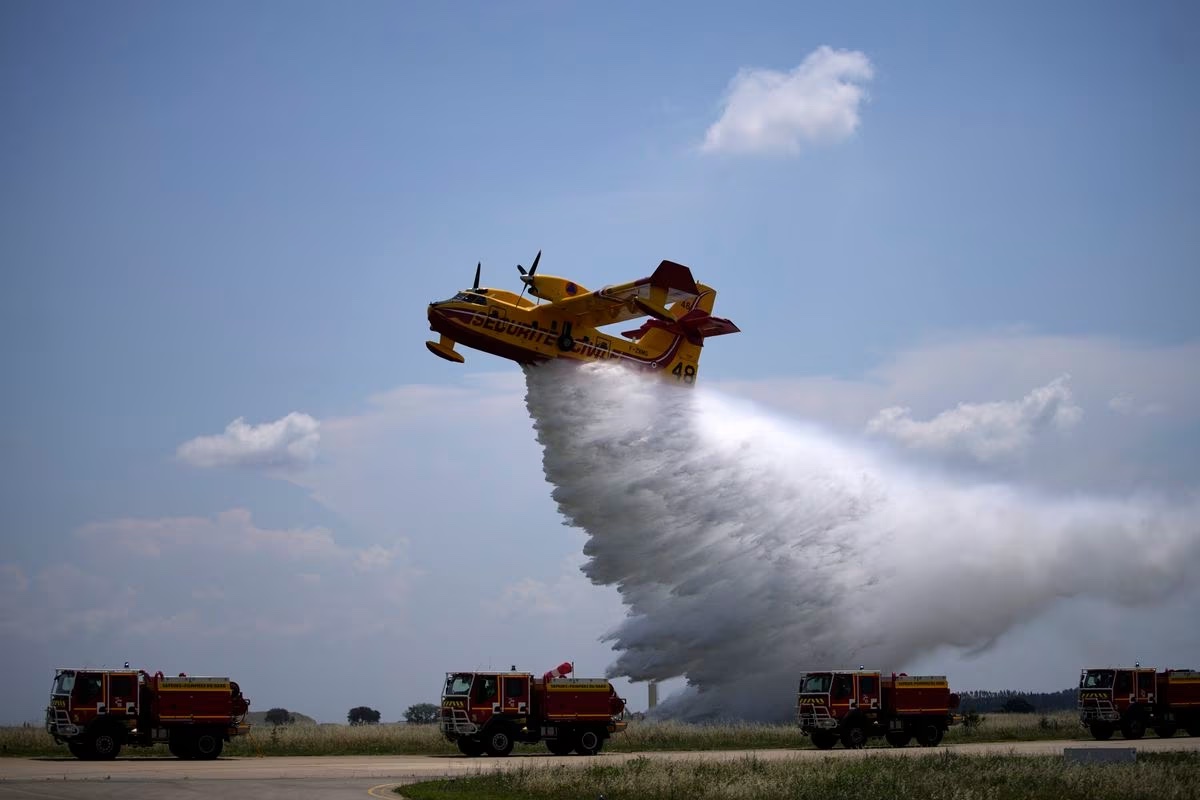 New firefighting planes from De Havilland Canada are on their way, with a little delay
JOHN LEICESTER REUTERS
Production of a workhorse firefighting plane that is eagerly awaited in Europe to combat worsening mega-blazes fuelled by climate change is running "a little bit" behind schedule, and the first will not be delivered before the fire season of 2027, manufacturer De Havilland Canada said Tuesday.
In launching production of the DHC-515 – a new generation of the famous "Canadair" water-bombing planes – the Canadian aircraft maker said last year that it expected to make its first deliveries "by the middle of the decade."
France, among countries that battled devastating forest fires last year, is expected to be among the first recipients of the aircraft, and had hoped for a first plane in 2026 to reinforce its aging fleet. French President Emmanuel Macron had also made an ambitious pledge to replace all 12 of its Canadairs by the time he leaves office in 2027 and to add four more – a promise that now looks in jeopardy.
The first plane won't be delivered to Europe before 2027, says the manufacturer, attributing the delay to contract negotiations with European governments over the "complicated engineering" of the sturdy, amphibious aircraft that can scoop up more than 6 tons of water from seas and lakes to be dumped at low altitude on blazing forests by their daredevil pilots.
"We're a little bit behind," said Neil Sweeney, De Havilland's vice president for corporate affairs, who spoke to The Associated Press at the Paris Air Show.
The planes require "complicated engineering that we need to agree upon with our European customers. So it's taken us a little bit longer," said Sweeney. "But I think ultimately it's going to result in a better aircraft."
Raging forest fires last year left European firefighters short of the planes they needed. A January meeting of European ministers to take stock of lessons from the 2022 fire season heard that a shared European pool of disaster resources couldn't fulfill requests for airborne assistance "for several days, reaching 10 aircraft missing during the worst day of the season," according to meeting minutes published by the EU's executive commission.
Climate change is driving the need for more planes that can dump water and other fire retardants on blazes. Major wildfires in Europe are now starting earlier, becoming more frequent, harder to stop and doing more damage.
Scientists say wildfires are likely get worse as the climate warms. The fire season that usually took place in the summer is now extending to other months in drought-hit areas of southern France and other parts of Europe where climate warming poses the greatest risks. The Mediterranean region is warming faster than the global average.
About 225 Canadair firefighting planes were produced since the 1960s. They've become essential for firefighters in France and elsewhere. But production of the water-bombers stopped in 2015, and manufacturer Bombardier then sold the program the following year to De Havilland. The company's relaunch of the upgraded DHC-515 responded to demand for replacements and larger fleets.
"Some of our customers are still operating planes that are 50 years old. Now, it's about time that those planes get renewed," Sweeney said. "Obviously with the impact of climate change, there's an additional demand for new aircraft to help fight fires during longer and hotter summers."
The European Union has placed 22 firm orders, and it will get those planes first, Sweeney said. He added that individual European governments are also talking to them about placing orders.
The initial production run of 22 planes for the EU will last into 2029 or 2030 – and two of the planes are earmarked for France, Sweeney said. "It'll start slow because bringing aircraft back into production … you can't do it overnight," he said.
Any additional planes for France would only come after that first run, "and we're speaking with France about how to fulfill the president's request" for the 16 planes that Macron pledged last October, he said.
Also talking about additional orders are provinces in Canada, where more than 400 wildfires spread choking smoke to the U.S. East Coast and Midwest earlier this month.
There are also prospective new customers in North Africa and South America – testimony to how the impacts of climate change are being felt across the globe.
"It's an opportunity for the company, but it's also a responsibility," Sweeney said. "When countries need our aircraft, we need to have them there ready, ready to go."
SOURCE: https://www.theglobeandmail.com/business/international-business/article-new-firefighting-planes-from-de-havilland-canada-are-on-their-way-with/